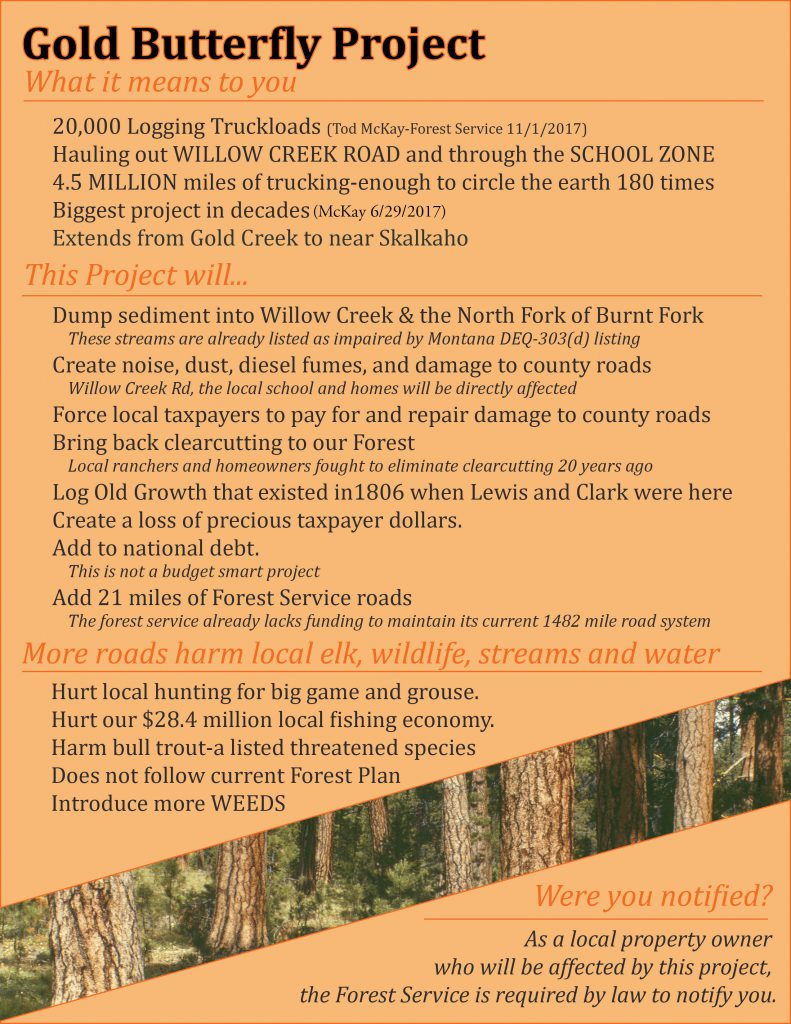 Gold Butterfly Timber Sale Information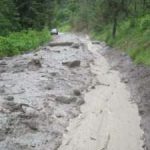 This 52,000 acre timber sale is located east of Corvallis, Montana and is the largest timber sale in recent history on the Bitterroot National Forest.   Currently there are 147 miles of roads within the project boundary with many miles of those roads not adequately maintained and up to Forest Service standards. (There are over 2000 miles of roads on the BNF).  The recent June 13th 2017 Willow Creek Road failure which sent tons of sediment into Willow Creek is an example of an unmaintained road system.    If that's not enough, the Forest Service plans to build even more new roads in the area.  
Willow Creek itself is listed by the Montana Department of Environmental Quality as an impaired stream.  The stream is home to Bull Trout which is a Threatened species.   The main access for logging trucks is on Willow Creek Road which in many places is within five feet of the creek.  
 The proposed timber sale is in designated Lynx habitat. Lynx are a Threatened species.    Flammulated owl, which are listed as a sensitive species are found in the project area also.
 Illegal Off Highway Vehicle (OHV) use in the area has caused severe damage in many places.   The Forest Service is unable to prevent this yet is proposing new roads in the area which will only encourage more abuse.    The Forest Service even has plans to have 40 acre (or larger) clear cuts and for cutting Old Growth trees.    This on a forest that does not meet Old Growth  Standards.    The area is one of the few North-South wildlife corridors that allows for the movement of animals over relatively large areas.   This seems an example of the FS wanting to build more roads in order to cut trees in order to pay for the roads which cause the damage.
The Bitterroot Forest has unspecified plans to log in the Stoney Mountain Inventoried Roadless Area, which is a premier wildland component of the Sapphire crest biological corridor.
 According to the BNF, 20,000 trucks will enter and exit on only one haul road; Willow Creek Road.   Given the road system is not up to standard, one can imagine what impacts 20,000 trucks will have.   It is probable that this sale will once again cost taxpayers money and not pay for itself. 
The Forest Service needs to hear comments from the public.  The Draft Environmental Impact Statement (DEIS) will be out in the next few months and it is then that the public needs to voice their concerns.     Upon the release of the DEIS, FOB will notify members and provide critical information for citizens to use in their comments.    Stay tuned.
Remember, only you can prevent mismanagement of YOUR public forest.

Friends of the Bitterroot     P.O. Box 442     Hamilton, MT 59840