Grizzly Recovery Plan
Northern Continental Divide Ecosystem (NCDE)
OR COMMENT: COMMENTS DUE OCTOBER 26, 2018
Email FWPGRIZZLYBEARARM@mt.gov or write to Grizzly Bear ARM, MDFWP, PO Box 200701, Helena, MT 59620-0701!
Talking Points:
 A 90% probability of maintaining 800 bears in the NCDE core is an inadequate target. How many bears and how much habitat is needed for a single, connected population in the Yellowstone, NCDE, Cabinet-Yaak, Selkirks, and Selway-Bitterroot ecosystems?
The "lower 48" grizzly bears were listed under the ESA as "threatened" with extinction. Why are MDFWP and U.S. Fish and Wildlife Service trying to "divide and conquer" rather than "connect and recover" these ecosystems?
Grizzly bears are currently confined to about 2% of their former range and numbers. MDFWP should be ashamed to try and write into Montana law that this constitutes bear "recovery."
Grizzly bear hunting would kill bears needed for population expansion and ecosystem connectivity. If you want to write a law, make grizzly bear trophy hunting illegal in Montana forever.
Connectivity is key. The Sapphires must be listed as a recovery zone if there is ever a chance to connect the NCDE grizzlies with the Yellowstone grizzlies. Numbers mean nothing without zones of connectivity between known grizzly populations. The original ESA ruling declared the entire population as endangered and called for connecting all recovery zones as one population. This is the only way to assure genetic vigor and the health of the grizzly population to assure numbers.
The recent Yellowstone ruling considered the counting method used by FWS as inadequate.
_____________________________________________
Gold Butterfly Timber Sale
The problem of deferred road maintenance has become routine on the Bitterroot National Forest. In the case of Willow Creek road, sediment chronically erodes into "water quality limited" Willow Creek, a bull trout bearing stream. The chronic problem became acute after record breaking rains on June 13, 2017. The Willow Creek road would be the primary loghaul route for the huge proposed Gold Butterfly timber sale. While the BNF loses millions of taxpayer dollars logging public forest, they don't have the budget for timely road maintenance. And their own statements seem to indicate they don't recognize the full extent of the problem. The Gold Butterfly timber sale project would build 8 more miles of road in this area where they can't maintain what is already there. Deferred logging can result in old growth forest; deferred road maintenance can result in dead fish.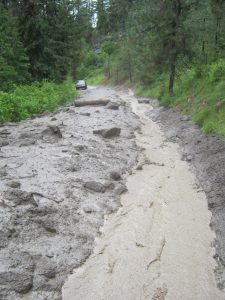 Below debris flow, FR#969 – Willow Creek Road, primary haul road for proposed Gold Butterfly timber sale.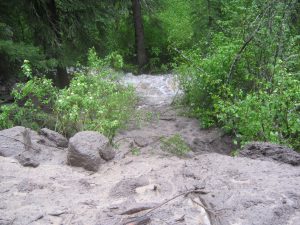 Debris flow going off road into Willow Creek, already listed as impaired by MT DEQ due to road sediment.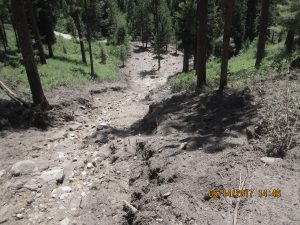 Debris flow burying Willow Creek Road and flowing into Willow Creek.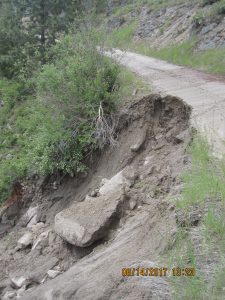 Origin of debris flow, Willow Creek Road, switch back north of Willow Creek. No erosion on nearby un-roaded slopes.
The Bitterroot National Forest Gold-Butterfly public presentation overview document states, "most of the project area contains a well-developed road system; primary Forest Service (FS) roads are in good condition."
As can be seen in these photos, Willow Creek Road, and possibly other project roads need not just maintenance, but reconstruction to meet BMP (Best Management Practices) requirements. The Ravalli County portion of Willow Creek Road needs repair also.  The cost to taxpayers to bring just main haul-roads up to standards, will be very high.
Forest Service road maintenance backlog in Montana was almost $500 million in 2004.
For more information  LINK
Montana Wilderness Study Act
Nine particularly important wildland areas of Montana were established as Wilderness Study Areas by Congress in 1977 by the Montana Wilderness Study Act (S. 393). Senator Lee Metcalf of Stevensville sponsored the Act. The late FOB steering committee member Clif Merritt, of Hamilton, was instrumental in identifying and selecting the nine areas based on their major importance for Wilderness designation, threats to their wilderness attributes, and substantial local support.
In testimony on S. 393, the late Bitterroot wildland advocate Doris Milner referenced salient facts that suggested the need for more Wilderness, including the decline in maximum size and quantity of the large areas (>100,000 acres) at the national level as well as the increasing rate of use of Wilderness areas. She answered opponents question "How much wilderness do we need?" by asking "How do we retain what little pristine remains?" Her answer was that 5-393 was a partial solution.
The Act says, "[Montana's WSAs] shall, until Congress determines otherwise, be administered by the Secretary of Agriculture IUSFS] so as to maintain their presently existing wilderness character and potential for inclusion in the National Wilderness Preservation System." The idea was to protect the wilderness quality of these special places before the incessant press to develop overtook the chance to fully protect them within the Wilderness System.
The Forest Service failed to maintain 1977 "existing wilderness character" as they failed to regulate the explosive increase of motorized recreational vehicle use on many of Montana's WSAs, including here on the Bitterroot National Forest (BNF) in the Blue Joint WSA and especially in the Sapphire WSA. For about twenty years FOB has monitored the Sapphire, Blue Joint and West Pioneer WSAs and documented damage caused by inappropriate and illegal motor vehicle use. In October 1996, FOB filed suit as a co-plaintiff in Montana Wilderness Association v. U.S. Forest Service, Case No. 96-152-M-DWM (D. Mont.), a case challenging the Forest Service's management of Montana's WSAs. After many years in Federal District Court and the Ninth Circuit Court, the case went clear to the US Supreme Court where in 2004 it was, in effect, dismissed without being ruled on. Since that time, several court cases involving failure to maintain wilderness character in specific WSAs have reinforced the clear mandate to maintain wilderness character. One court ruling that reinforced the need to limit levels of motorized use to that in 1977 also noted "Congress did not, however, mandate that motorized recreational levels be maintained."  Finally, in 2016, the BNF Travel Plan prohibited motorized and mechanized vehicles in the SWSA and BJWSA.
Blue Joint Wilderness Study Area
The Blue Joint WSA near Painted Rocks Lake is 68,000 acres of prime wildlands, including over 65,000 acres on the Bitterroot NF, contiguous with the Frank Church – River of No Return Wilderness and the Selway – Bitterroot Wilderness. Elevations range from 4,900 feet to 8,600 feet. Slopes on over half the area exceed 60%. Whitebark pines, a valuable food source, grow at the higher elevations. The large BIue Joint meadows provide diversity of habitat. This WSA serves as a buffer between the Big Wilderness to the west and development from the east pushing in from the southern end of a fast-growing Bitterroot Valley. The BJWSA provides dependable clean water at the head of the Bitterroot River as well as habitat for wildland species.
Sapphire Wilderness Study Area
FOB believes the Sapphire WSA is one of the most biologically valuable areas in the Bitterroot. It is approximately 98,000 acres in size, about 25 miles long and 5 to 10 miles wide, ranging from 5,000 feet to 9,000 feet in elevation. It contains numerous lakes and large meadows. Adjacent to the Anaconda – Pintler Wilderness, it serves as a critical wildland link in the Sapphire crest regional wildland biological corridor, providing premium value in this age of climate change due to its cooler high elevation secure habitat and north-south orientation, offering a path for migration to the north. The corridor has proven itself. Grizzly bears have wandered back to the Bitterroot along the Sapphires. Whitebark pine on the crest and swaths of huckleberry bushes provide important food sources for bears. A dwindling mountain goat herd and imperiled wolverines live there.