Darby Lumber Lands Phase Two Draft EA
Final Comments November 20
Now we are waiting for the Final EA
Commercial Logging in Elk Winter Range
Large Clear Cuts
Illegal roads in areas reserved for Elk Winter Range
What is the cost to taxpayers?
Don't Let the Bitterroot National Forest
Destroy Another Refuge for Elk and other Wildlife
This timber sale is a small island of refuge
surrounded by past Darby Lumber Lands clear cuts and logging roads.
One clear cut is 100 acres. The other is 39 acres.
Please Contact the Forest Service
Comments Due
Tues. Nov 20
How to comment:
E-mail comments to: comments-northern-bitterroot-darby@fs.fed.us
Put "Comments on Darby Lumber Lands - Phase 2 Project" in the subject line
Include your name, address, e-mail and phone number
Comment to: Eric Winthers, District Ranger
SUGGESTED TALKING POINTS:
What is the cost? No economic analysis has been made available to the public. It is five hours to the nearest mill, ensuring this project is a huge burden on taxpayers. The Forest Service should not proceed with this project until a thorough and detailed analysis of total costs has been made available to the public for comment.
The logging, which includes large clear cuts (100 acres and 39 acres), in elk winter range will force elk onto neighboring private lands reducing hunter opportunities. Any clear cuts over 40 acres must include a 60 day public comment period. The Forest Service needs to make a single map, clearly marked with clear cuts, other cutting units, existing roads, proposed roads (both permanent and temporary), and management area boundaries (with detailed definitions), available to the public for a 60 day comment period.
Do not build any new temporary or permanent roads in this roadless area. The majority of this area is designated for Elk Winter Range or Management Area 8b (MA8b) The Bitterroot National Forest Plan does not allow roads in Elk Winter Range which reduce hunter opportunity by pushing elk onto neighboring private lands. Roads create sediment in streams affecting outstanding Bitterroot fishing. Roads disturb soils and leave native plants vulnerable to highly competitive invasive weeds. Roads fragment habitat for elk and other wildlife.
Do not use mistletoe as an excuse to create extensive clear cuts.  Mistletoe is beneficial to wildlife and ecosystems. The Forest Service needs to disclose the benefits of mistletoe to the natural processes in forests. According to Forest Service literature, the only reason to rid an area of mistletoe is for timber production, but the cutting area prioritizes Elk Winter Range not timber.
The Environmental Analysis is incomplete. Wildlife, rare plants, and soils analyses are either incomplete or non-existent. The BNF cannot make a decision of No Significant Impact without further analysis. The affects of large clear cuts and road building in a pristine island of forest within an ocean of disturbance requires an Environmental Impact Statement, not just a simple Environmental Analysis.
Wilderness Study Area News
Judge Upholds Travel Plan But....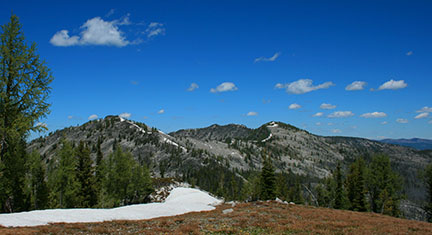 ...Opens New Objection Period Concerning Mountain Bikes in WSAs
BNF Extends New Objection Period and Opens it to Everyone
Comment deadline was November 19
Please Help Us Protect Wilderness Study Areas in the Bitterroot National Forest
We need your help. An objection period is open concerning mountain bike use in the Blue Joint and Sapphire Wilderness Study Areas (WSAs). Please let the BNF know you value these places for their wild character and that mechanized travel is not appropriate.   We need more places where natural wonders exist free from noise, speed, and the hustle and bustle of modern life.
---
Background
The 1977 Montana Wilderness Study Act (sponsored by the Bitterroot's own Lee Metcalf) required the Forest Service to maintain "their presently existing wilderness character and potential for inclusion in the National Wilderness Preservation System". The Ninth Circuit Court has ruled this requires the FS to maintain a study area's 1977 wilderness character, including opportunities for solitude comparable to those in existence in 1977.
We thank former Forest Supervisor Julie King for taking needed steps to protect our WSAs.   As she wrote in the 2016 Bitterroot NF Travel Plan's Record of Decision, "I feel we have an obligation to manage WSAs for those social and ecological characteristics to preserve wilderness character. These actions assure that Congress' intent for these areas will be honored while preserving their potential for inclusion in the National Wilderness Preservation System."
Mountain bikers teamed with motorized users and sued the Bitterroot National Forest (BNF) to overturn the BNF Travel Plan's closure of approximately 121 miles of trail in the Sapphire and Blue Joint Wilderness Study Areas to motorized and mechanized (bicycle) travel.
Recently, the Federal District Court agreed with the BNF decision, stating "the Court defers to the Forest Service's rationale that the social impacts, including the feeling of being in an undeveloped setting, are sufficient to support its decision to close RWAs and WSAs to bicycle transport". The court found the change in percentage of trails listed as closed to mechanized travel between the DEIS and the final decision (9% of 1,222 miles available previously on the Bitterroot, later corrected to near 10%) to be "a minor variation…no supplemental EIS was required". However, he noted the closure of trails to mountain bikes in the WSAs came late in the process. The judge did not overturn the decision about mechanized travel but did ask the BNF to provide another comment period specifically relating to mountain bike use in the WSAs.
The Blue Joint and Sapphire WSAs are home to elk, wolverine, bull trout, deer, mountain goats, golden eagle, pika, and species which need large undisturbed landscapes. They protect our clean water and outstanding fisheries. They represent some of the last remaining wild places in the lower 48 and serve as valuable corridor/linkage routes for wildlife and flora.  They are rare wild areas where natural processes still dominate, and humans can find solitude and untrammeled beauty.
---
How to Comment
Please take a few minutes to comment using some of the following talking points. Even if you did not previously comment on the Travel Plan, you can comment on the use of mountain bikes in the Blue Joint and Sapphire WSAs. Future generations are counting on us.
Comments are due Nov 19th, 2018
Be aware that this is an objection period, so comments must be specific and include the following:
Address your comments/objection to the Reviewing Officer
Objectors name, address, phone number, and organization represented, if any;
Title of project  on which the objections are being submitted along with the name of the national forest: Bitterroot National Forest Travel Plan
A description of those aspects of the proposed project addressed by the objection, including specific issues related to the proposed project; if applicable, how the objector believes the environmental analysis or decision specifically violates law, regulation, or policy; suggested remedies that would resolve the objection;
Objectors signature.
The Travel Management Plan FEIS is available at THIS LINK. The Record of Decision (ROD) is available online at THIS LINK. Please refer to pages 24-25 (available at this link) of the ROD for the decision maker's rationale for closing WSAs to mountain bikes.  The site also contains a detailed description of trails/miles closed to bicycles in WSAs.
Email comments can be submitted to: appeals-northern-regional-office@fs.fed.us with "Bitterroot Travel Plan Objection" in the subject line.
Comments can also be mailed or hand-delivered to the following address:
Objection Reviewing Officer Bitterroot Travel Plan
USDA Forest Service
26 Fort Missoula Road
Missoula, MT 59804
---
Suggested Talking Points
Please thank the BNF for protecting these WSAs by closing them to motorized and mechanized use. Support the Travel Plan decision to manage WSAs to maintain their 1977 wilderness character and potential for inclusion in the National Wilderness Preservation System. With so little Wilderness (2.7% of the lower 48) we need more areas protected, not less.
If you have recreated on trails in the attached spreadsheet, describe the importance of solitude and primitive recreation to your experience there. If you have experience in the early decades following the 1977 WSA designation, describe the types of use you saw. Make sure that you frame your experience with the importance of closing all trails (not just the ones you mention) in both WSAs to mechanized use.
The non-conforming motorized/mechanized use since 1977 have negatively impacted wilderness character. Bikes travel farther/faster than traditional forms of travel such as hiking and horseback riding, shrinking the areas opportunity for solitude and the sense of remoteness associated with primitive recreation. Request the impacts of over-snow and electric bikes be specifically analyzed and specifically banned.
Due to the combination of speed and silence, mountain biking can startle hikers, horses and wildlife, causing stress and displacement. Support minimizing the harassment of wildlife and disruption of wildlife habitat. Plants and animals already pushed to limits don't need more pressures in these last remaining wild places.
WSA trails have not been designed for mountain bike use and there is a potential for erosion. Preserving water quality protects outstanding fisheries and clean headwaters in the Sapphire and the Blue Joint.
According to a survey conducted by the BNF in 2016, non-motorized & non-mechanized users make up over 78% of all recreational users on the BNF.
There is no shortage of trails and places to ride. According to the Bitterroot Backcountry Cyclist's own website, "Western Montana and the Bitterroot Valley have hundreds of miles of single track..." More opportunities for mountain bikes are planned by the Bitterroot National Forest such as loops and connector trails at Lake Como and the Como Ridge Trail Construction Project. And mountain bikers that enjoy these areas can still access WSAs by foot or horse.
---
Blue Joint and Sapphire Wilderness Study Area (WSA) Trail Closures
Blue Joint WSA
Sapphire WSA
Trail Number
Miles
Trail Number
Miles
106 - Razorback Ridge
12.6
102 - Mosquito Meadows
1.1
137 - Jack the Ripper1
3
156 -Weasel Creek
1.7
138 - Chicken Creek
5.7
168 - Moose Creek
5.1
139 - Deer Creek

12.5

313.2 - Bitterroot Rock Cr. Divide N. end of

MWSA to Trail 102

22.8

183 - Bare Cone

2.6

313.5 - Bitterroot Rock Cr. Divide Junction

Trail 102 to FR 80

7.8

223 - Little Blue Joint
4.3
39 – Chain of Lakes
3.4
602 - Deer Creek Point
2.8
40 - Sign Creek
5.6
614 - Blue Joint1
14.7
420 - Sula Fish Lake
0.6
627 - Castle Rock1
4.6
421 - Faith Lake
1.8
Total
62.8
503 - Skalkaho-Jerry Lake
3.8
77 - Railroad Creek
2.1
83 - Kent Lake
0.7
87 - Skalkaho-Sleeping Child Divide
1.3
Total
57.8
From the
Bitterroot National Forest's
Travel Plan website
Gold Butterfly Project
We are waiting for the FEIS... stay tuned for more info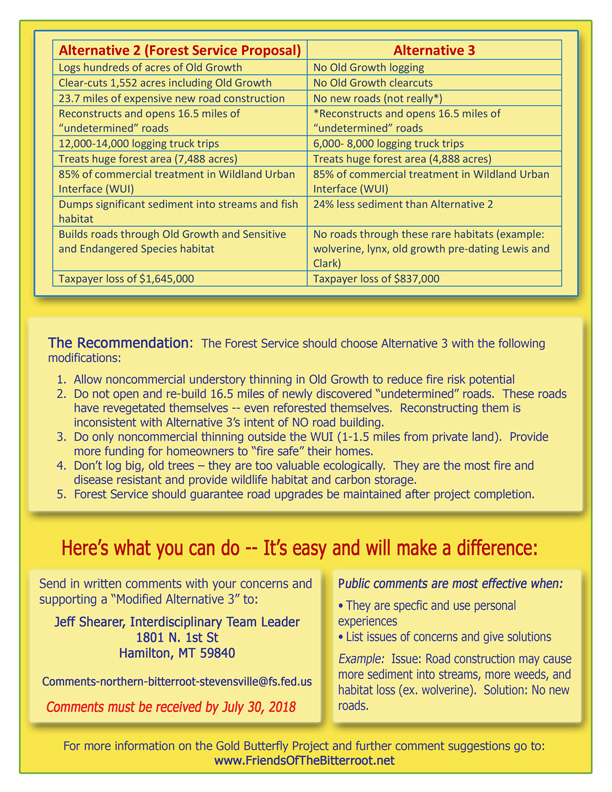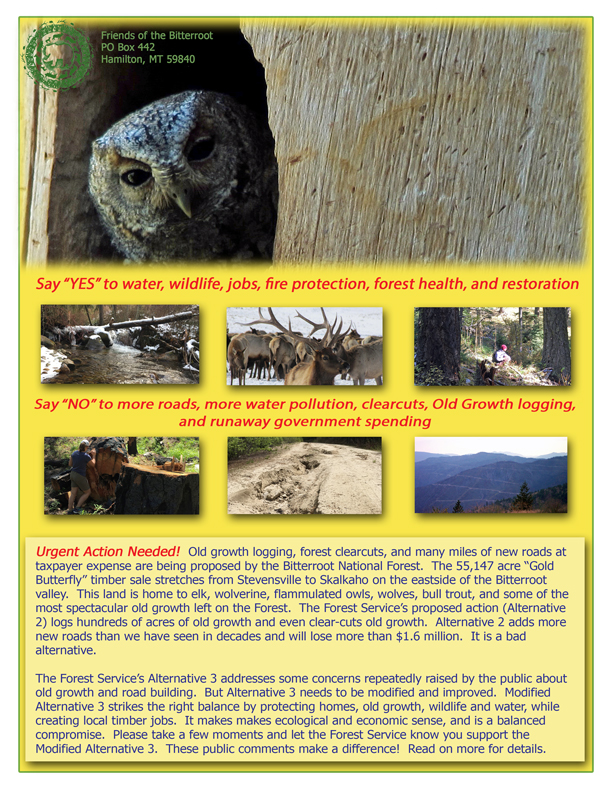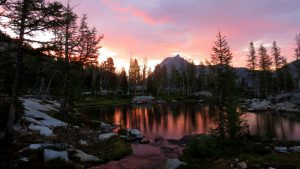 Gold-Butterfly Project Issues:
Issue 1: Roads/Sediment/Water Quality/Fisheries
The largest, overriding issue in Gold-Butterfly (GB)
Has the greatest consensus/ zone of all agreement of all issues
Current Forest road system is non-resilient, oversized, unaffordable, unsustainable, unmanageable

Roads are not being maintained to BMPs

Forest-wide Management Standards

[J1] "Roads will be maintained to design standards."
[J2] "Roads will be closed to public use if adequate road maintenance funds re not available."

Restoration principle #13: "Establish and maintain a safe road and trail system that is ecologically sustainable."

GB roads and impacts

Chronic sediment source including 303(d) listed Willow Creek and N Fork Burnt Fork

Bull trout is an ESA-listed threatened species

In Willow Creek, next to a legacy road that is not maintained to BMPs and will be the major haul route

Too high a road density in PA (Project Area) currently

Elk Habitat Effectiveness (EHE) standard will need to be amended

Fragments wildlife habitat, disturbs feeding, nesting, breeding
The BNF "challenge" and overriding NEED in GB PA:

Identify a resilient future road system that:

Restores aquatic systems, watersheds, and wildlife habitat
Ensures reliable recreational access
Allows the FS to adequately maintain it within annual budgetary constraints
Facilitates adaptation to climate change (e.g. severe weather events, wildlife movement corridors).
Compliant with Management Standards [J1, J2] and with Travel Management Rule (subpart A)
Consistent with Restoration Principle #13
Do the above 1-6.
Not add more roads to the PA (no new roads-temporary or permanent)
Reduce road density by doing additional decommissioning than currently proposed
Fully obliterate (and do necessary rehab) of ALL unauthorized ORV/ATV routes

Helping to restore soil productivity, reduce noxious weed spread, restore hydrologic functioning

Ensure sufficient BMP road upgrades (esp. Willow Creek Road) that are maintained during the GB Project's life AND afterwards
Not be opening up closed or "undetermined" roads that are naturally re-vegetating or decommissioning themselves
Annually monitor culverts in PA to ensure safety and proper function
Work with private landowners to improve fish connectivity between isolated populations in Willow Creek and N. Fork Burnt Fork and the Bitterroot River proper, thereby adding resilience to the fishery (e.g. in case of fire, other disturbances)
Issue 2: Fire (and Insects, Disease)
A stated 'Need for Action" by the FS in their GB scoping letter is to: Improve landscape resilience to disturbances (such as insects, diseases, and fire) by modifying forest structure and composition, and fuels

What scientific support does the FS have that using active management to modify forest structure and composition, and fuels will improve landscape resilience to disturbances as noted above?

Fires, Insects, and Disease are integrally related to impacts from climate change (CC). We cannot Forest-manage our way out of CC
Fires, Insects, and Disease are all natural responses to conditions, and are a natural part of forest succession that help sustain ecosystems.
Doesn't logging and its associated disturbances adversely impact the resiliency of soil, mycorrhizae, plant ecosystems (grasses, shrubs, etc.) and much wildlife?
Priorities related to Fire:

If home protection is the goal, then the Home Ignition Zone (HIZ) is the proven key (100' from home)

Cohen's Roaring Lion Fire analysis: (page 12/13) "Importantly, vegetative fuel treatments outside the HIZ (100') for preventing home destruction during extreme wildfire conditions do not prevent fire spread through the treatment area into the HIZ and do nothing to change home ignition potential within the HIZ." (Reinhardt et al 2008; Calkin et al 2014) "Wildland fuel treatment for community protection largely using forest thinning adjacent to but outside HIZ does not mitigate the ignition factors that primarily determine home ignition potential within the HIZ." (Reinhardt 2008, Calkin 2014)

More background on Fires (Missoulian article)

Professor Andrew Larson (UM, Forest Ecology)

Strongest predictor of number and intensity of wildfire is summer drought.
Thinning and fuels reduction treatments will almost never prevent a wildfire, but may moderate its behavior and effects

Strongest evidence for thinning and prescribed fire treatments in dry, low elevation ponderosa pine forests

Humans are driving CC. Fires may cause short term loss in water quality but benefits in long term

Kevin Barnett (Dept. Economics, UM)

Cost-effectiveness of fuel treatments is highly questionable.   There is little evidence that fuel treatments result in reduction of wildfire management costs.

Tania Schoennagel (Forest landscape ecologist and fire researcher, University of CO)

No amount of thinning will outpace influence of warming on wildfire area burned (Climate Change)
It's a crapshoot whether the treatment you do will encounter wildfire in the next 10-15 years (relates to FS in ability to keep up costly "haircuts")
Emphasize fuels near residential development in low elevation forest; private lands in the WUI
Allow more wild and prescribed fires to burn
A GB Alternative Would:

Thin in the Community Protection Zone (CPZ) - ¼ mile from structures

Allows firefighters to aggressively fight wildland fires and protect communities
Emphasize CPZ thinning where it overlaps with BNF Forest Plan Management Area 1 (timber emphasis)

Utilize hand thinning, prescribed burning (as touted by Canyon Creek project proposal as effective mitigation)
Devise a project that caters towards hiring skilled locals and local businesses to do the work.
Support additional programs, funding, education for homeowners to effectively treat their HIZ
Recognize that insects and disease are natural parts of the ecosystem, even at epidemic levels, and if ecosystem resilience is your goal (and not timber as an agricultural product) then you would not use treatments such as clearcutting, to manage an endemic and pervasive "disease" such as mistletoe.
Issue 3: Wildlife
Impacts largely tied to existing forest road system and proposed new roads
Fisheries: Bull trout, western cutthroat

Culvert at North Fork Willow Creek to be pulled
Butterfly Creek culvert: no plan for replacement due to cost, low priority by FS
Road, sediment issues as described earlier
Bull trout is on ESA list. How will project impact bull trout?

Will there be adequate buffers for nesting territories of goshawks, flammulated owls, great gray, and barred owls, pileated woodpeckers?
Forest Plan will have to be (once again) amended for EHE.

More roads will degrade EHE, impact elk
Original scoping letter refers to 3900 acres treatment in MA2 and 3100 acres in MA3a.

MA2 goals include optimizing elk winter range using timber harvest and providing moderate levels of wildlife habitat and old growth.

How do proposed MA2 treatments comply with these goals?

MA3a is described as mostly elk winter range. MA3a goals emphasize big game cover and old growth, with moderate levels of big game forage.

How do proposed treatments in MA3a correlate with these goals?

Winter range thermal cover Forest Plan standard will have to be suspended, impacting habitat
Disturbance to mustelids in PA (martens, maybe fisher, wolverine), affecting habitat, maybe leading to trapping mortality with more roads and trapping access. Note: wolverines have been documented in PA this year (2017)
Need for GB proposal that considers CC and future impacts on wildlife with needs for connectivity and biological corridors free of roads
Documented lynx habitat in PA. Was this accurately and consistently measured/mapped? What protocol was used?
Issue 4: Old Growth
Integrally tied to old growth dependent species
There is significant old growth documented in GB mapped "WUI" (an arbitrary, not real-world boundary, example: standing on road at Butterfly – Eastman ridge divide you are declared to be in the WUI)
We have too little old growth. The BNF has been managed down to a level well below the historic range of variability for old growth
Often areas with numerous (defined) old growth individual trees do not qualify as 'old growth' given the many required criteria and gerrymandered tree stands
Proposed new roads transect areas of old growth and through documented territories of sensitive species (like flammulated owls)
As proposed many old growth trees will be logged because of non-lethal mistletoe that is pervasive and endemic to the PA and used by any wildlife species
How do proposed treatments in MA3a comply with its goal of "emphasizing old growth"?
A GB Alternative Would:

Retain all old growth individual trees
Construct no roads
Issue 5: Climate Change
The FS has a substantive duty under is own FS manual to establish resilient ecosystems in the face of climate change. The FS' own science identifies the risk of CC and it must address the risks of CC when managing road activities on the National Forest.
Many of the aforementioned fire/disease/insect issues are related to warming due to anthropogenic CC.
We need to create a sustainable, resilient road system that is adaptable to CC (e.g. extreme weather events like the Willow Creek Road failure). Many forest roads are poorly designed and located to handle severe storms
Biological corridors will become more vital to allow for species movement, especially North-South. This landscape connectivity will only become more important to allow for ecosystem resilience
Our MT Forest Restoration document (Appendix D) specifically addresses CC

"Increase resiliency of nature fish species by promoting large, well connected stream networks, removing barriers, and creating aquatic refuges at various elevations."
"Climate change impacts on water flow, yield and riparian function are serious, and will aggravate and exacerbate other existing stresses. Wherever possible, target actions aimed at improving aquatic systems and headwater resilience."
Identify CC as a risk that needs to be addressed.
Take specific actions to facilitate adaptation and resiliency to CC in the PA.
Not include any constructed stream crossings that impair aquatic systems and headwater resilience.
Prioritize removal of ALL fish barriers in the PA to improve native fish resiliency.
Issue 6: Stony Mountain IRA
Will the logging proposed (commercial and /or non-commercial) degrade the Wilderness character of the area?
Is a key link in the Sapphire Crest Wildlife Corridor
Issue 7: Recreation
Support recommended actions in proposal
Gleason Lake Trail

A recreational opportunity
Needs restoration work
Needs trail work, signage – an excellent opportunity for quiet use trail that groups and individuals could volunteer to do the work
Is currently being illegally accessed by ATVs which are causing resource damage and leaving trash

Related to Gleason Lake Trail, Rd 13131 is a gated road currently closed year-round to motorized. This may be the source of the illegal ORV incursions into Gleason. This road is proposed as a possible "rock collection site" (since Burnt Fork site would be closed)

This road should remain closed year-round to motorized. Opening it would likely aggravate the illegal and damaging ORV incursions

Again, related to sustainable road system in the PA: the road density should be lowered to allow for sufficiently managed and maintained roads for a better quality recreational experience by the public
Restore and improve the Gleason Lake Trail and area.
Issue 8: Post-project Monitoring and Restoration
As Per our Committee's mission and Restoration Principle Guidelines, monitoring should play a key role. Likewise, it is incumbent upon the FS to monitor a project's effectiveness and outcomes. How does the FS plan to perform this for GB?
Performing and completing the needed restoration work is of paramount importance.
A GB Alternative Would:

Include a secure budget for long term Monitoring and Restoration work.

Partner with interested organizations and groups to assist with unfunded or supplemental restoration activities.
Over-arching principle: Resilience
The project's purpose and Need should be revised to include

Improving landscape resilience to disturbance by addressing its over-sized, under-maintained, unaffordable road system *
Ecosystem resilience is deleteriously affected by roads that fragment habitat, lowers water quality and impacts fisheries, create fish barriers, alter species distribution, and impact various species' nesting, feeding, and breeding

Extensive logging adversely impacts resilience of soils, microorganisms, plants and many wildlife species
A GB Alternative Would:

Revise the purpose and need to do (see above *)
Gold Butterfly Timber Sale General Info
This 52,000 acre timber sale is located east of Corvallis, Montana and is the largest timber sale in recent history on the Bitterroot National Forest.   Currently there are 147 miles of roads within the project boundary with many miles of those roads not adequately maintained and up to Forest Service standards. (There are over 2000 miles of roads on the BNF).  The recent June 13th 2017 Willow Creek Road failure which sent tons of sediment into Willow Creek is an example of an unmaintained road system.    If that's not enough, the Forest Service plans to build even more new roads in the area.
Willow Creek itself is listed by the Montana Department of Environmental Quality as an impaired stream.  The stream is home to Bull Trout which is a Threatened species.   The main access for logging trucks is on Willow Creek Road which in many places is within five feet of the creek.  
 The proposed timber sale is in designated Lynx habitat. Lynx are a Threatened species.    Flammulated owl, which are listed as a sensitive species are found in the project area also.
 Illegal Off Highway Vehicle (OHV) use in the area has caused severe damage in many places.   The Forest Service is unable to prevent this yet is proposing new roads in the area which will only encourage more abuse.    The Forest Service even has plans to have 40 acre (or larger) clear cuts and for cutting Old Growth trees.    This on a forest that does not meet Old Growth  Standards.    The area is one of the few North-South wildlife corridors that allows for the movement of animals over relatively large areas.   This seems an example of the FS wanting to build more roads in order to cut trees in order to pay for the roads which cause the damage.
The Bitterroot Forest has unspecified plans to log in the Stoney Mountain Inventoried Roadless Area, which is a premier wildland component of the Sapphire crest biological corridor.
 According to the BNF, 20,000 trucks will enter and exit on only one haul road; Willow Creek Road.   Given the road system is not up to standard, one can imagine what impacts 20,000 trucks will have.   It is probable that this sale will once again cost taxpayers money and not pay for itself. 
The Forest Service needs to hear comments from the public.  The Draft Environmental Impact Statement (DEIS) will be out in the next few months and it is then that the public needs to voice their concerns.     Upon the release of the DEIS, FOB will notify members and provide critical information for citizens to use in their comments.    Stay tuned.
Remember, only you can prevent mismanagement of YOUR public forest.

Friends of the Bitterroot     P.O. Box 442     Hamilton, MT 59840